ISO 18752 standard is the most tuff standard for hydraulic hose ?
Views:92 Author:UGW hose Lara Publish Time: 2021-05-21 Origin:UGW hose Lara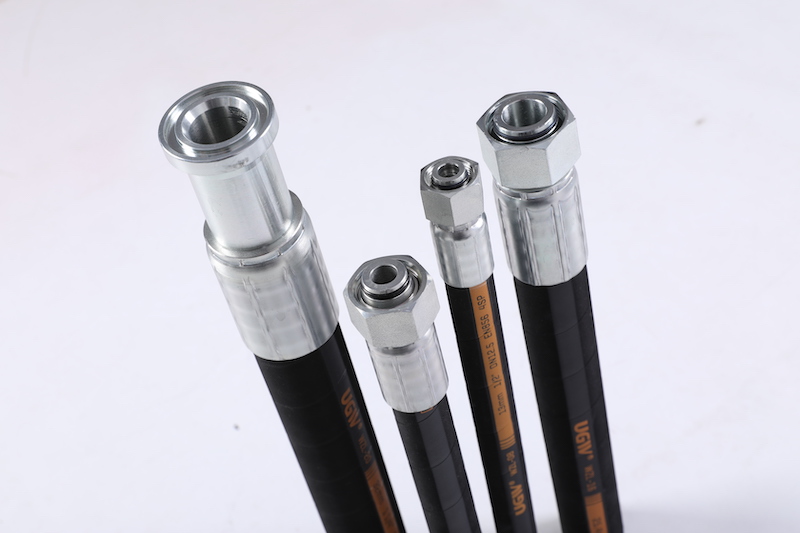 The primary concept behind ISO Standard 18752 requires constant-pressure performance ratings in each class for different hose sizes. This specification also requires spiral hose to exceed one million pressure impulse cycles according to ISO 18752 hose grade D, type DC. This requirement is the toughest of all grades and classes to achieve and specifies meeting 248F temperature and an impulse pressure of 133% of maximum working pressure for at least one million impulse cycles. In this accelerated test, the hose is positioned into a U-shape on a test stand, and the fluid is raised to the specified working pressure. Pressure pulses are also applied at an elevated value to stress the spiral wires and end fittings for a minimum number of required cycles.
The ISO 18752 standard makes it easy to identify what hose should be used on a machine. Strict testing requirements allow users to know exactly what the hose is rated for and how it should perform while on hydraulic equipment. Hoses tested to higher impulse standards are likely to have a longer hose life, which is why many users are switching to ISO standards. For instance, if you need a hydraulic hose for a severe application presenting many repeated pressure cycles in short time and long continuous service, you would select either the grade C or D hose assemblies. However, this selection is based on the hose being correctly installed and protected from harsh environments.